Friday, November 15th, 2013
The fourth post showcasing the prints from my 'Baker's Dozen' exhibition. Please also see news post for November 5th, 2013; exhibition details and an outline of the work.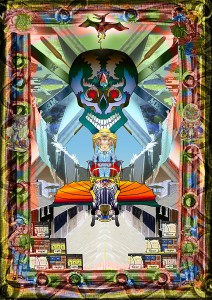 'Race to the Line'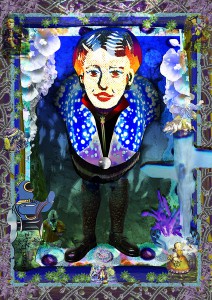 'Peering In'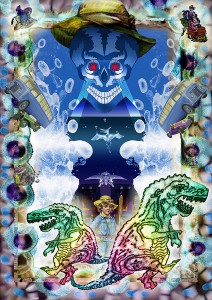 'Calm Centre'
Oh yes, of course "Where is the extra one that makes a 'Baker's Dozen'? Well for now, you will have to pop down to Noa's Bakehouse to see it. It is of course in a similar vein to the 12 posted thus far and go's by the title 'Monster Procession'. Hope you have enjoyed this preview my new work, see you at Noa's.
Prints are:-
* Limited edition of 1/70. Numbered and signed in pencil by artist.
* Artist emboss/chop stamped on border.
* Pigment ink on archival, acid free German etching paper.
* A4 paper size. Image fills A4 with small border for edition, title, signature and stamp.
* Price £45 + P&P  (£2 local IoM, £2 UK,  £4.50 Europe £6 RoW.)
* To order please contact [email protected]