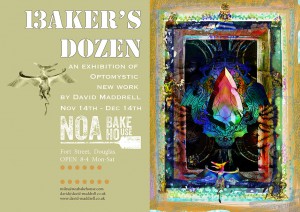 I have a very exciting exhibition coming up at a superb venue… Noa's Bakehouse in Douglas! Noa's is the sourdough bakery and coffee house which is kneading up a perfect daily bake (Mon-Sat 8-4) to accompany their ever expanding repertoire of sandwiches, soups, curries, stews and chillies! The title and number of new pieces to be created for the exhibition sprang to mind with the phrase"Baker's Dozen".
These 13 new pieces have been created following on from the wet work printing  techniques developed in the previous 'Carpet Pages' exhibition. Once again the imagery is childlike and playful. Overall a positive, optimistic light prevails through the work but this is at times interwoven with dark passages familiar to all lovers of myth, folk lore and fairy tales. The important difference this time being the process of painterly combining collage and decoupage was achieved entirely in digital media.
I feel proud to be showcasing this fine art exhibition at Noa's Bakehouse and delighted to be a part of the dynamic experience that Miles, Pippa and their vibrant team have created.
Check back over the next week as I will post some tasty images to wet the appetite for the full exhibition: 14th of Nov – 14th of Dec.