March 30th, 2017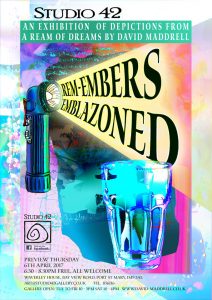 Studio 42 presents
An exhibition of depictions from a ream of dreams by David Maddrell
REM-Embers Emblazoned
As a professional artist David Maddrell works in a wide variety of media including both 2D & 3D, pastel, paint, printmaking and stained glass. More recently digital collage and painting has become his media of choice; this incorporates many aspects honed through the time honoured traditional techniques. The gravitas of the landscape pastel, the jewel like colour of the stained glass panel, the graphic potency of the print are all to be found within his digital works. The following quotes have been chosen by David to accompany this exhibition of dream imagery.
That which the dream shows is the shadow of such wisdom as exists in man, even if during his waking state he may know nothing about it…. We do not know it because we are fooling away our time with outward and perishing things, and are asleep in regard to that which is real within ourself.
Paracelsus
Your vision will become clear only when you can look into your own heart. Who looks outside, dreams; who looks inside, awakes.
Carl Jung