Etching is a more widely known printing technique. I use acrylic resist etching (ARE) techniques. This replaces the old wax/varnish resists with modern user friendly acrylic versions. The principle is the same though. A metal plate, in my case copper is coated with a resist which I then draw into using a variety of tools, exposing the metal to be etched.
The acid creates recessed lines which when inked up will produce a print range from stridently bold to ephemerally delicate. Tones are created by the density of lines and cross hatching techniques.
Aquatint gives me tonal effects and is used hand in hand with etching. An aquatint using ARE is achieved by spraying a fine acrylic mist onto the plate using an airbrush. A 'peak linen style' folding magnifier is used to examine the fine dot coating on the surface of the plate. The dots want to leave a satin finish 50/50 glint of metal/resist.
The acid bites through the fine mesh of dots in timed stages, stop-out resist is applied to areas as they reach the desired tone, this protects them from further bite. The tones are predicted by referencing a previously printed guide made from a timed stage bitten aquatinted plate.
The longer the metal is exposed to the acid the darker the tone.These elaborate techniques become in time second nature and help create the special atmosphere associated with the medium.
The photo-resists I use are applied as a UV light sensitive film adhered to the copper plate. This is then exposed to UV light. Half the exposure time is given to the aquatint screen (to achieve tonal variation) and half to the image positive acetate.
The positive image can be created by drawing and painting directly onto plastic sheet or a photographic image printed onto acetate. Combining these two techniques produces strong results.
I create an image on acetate/plastic sheet that blocks the UV light from hardening the photopolymer film beneath. The exposed areas are cured by the UV creating a tough acrylic resist . When developed in a bath of dilute caustic soda the unhardened coating lifts away exposing the metal.The exposed metal can then be bitten by the acid to create the printing plate.
The ARE techniques outlined above are explained in depth, step by step in the excellent Thames and Hudson book 'Intaglio' by Robert Adam and Carol Robertson.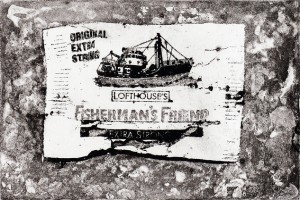 Fisherman's Friend
1 x Battered Pkt
Limited Edition of 1/10