"Digital Watercolour" is a term I am using to describe a method of making original prints using paintbox software.
The starting point for me is a watercolour sketch. This is scanned into the digital environment of a painting program. This sketch gives a great ground which I then paint into with gusto, adding, softening, blotting, strengthening, highlighting.. the list is endless. All my usual artistic skills come to bare in this medium.
The print is then printed with archival paper and inks using a professional inkjet printer. The prints fulfill their "original" status by the fact that they are not facsimilie reproductions of other works. I have been asked many times if the "original painting" is for sale. Sorry folks, these prints only exist as original prints, 1/10.
The programs I use are 'Painter' and 'Photoshop', essentials in any contemporary artists tool box. I have an interesting use for 'Illustrator' looming. I'll have to get a handle on vector graphics for that though!
The digital watercolours I have in the show are well documented on the site in the posts:-
Autumnal Magic (November 6th, 2007)
A Little Gathering of Sunlit Buildings (November 6th, 2007)
The following images are the latest digital watercolours to be added.
'Rusty Roof, Cregneash'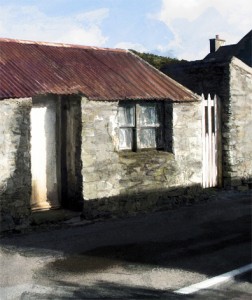 'Tree Tumbled Wall, East baldwin'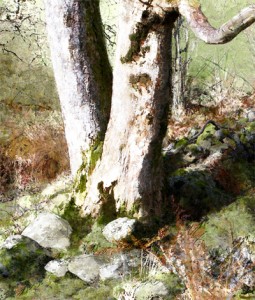 'Tree, East Baldwin Valley' (Also referred to as "Tree and Sky, East Baldwin Valley" )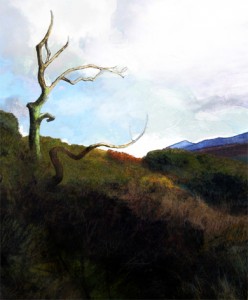 My Digital Watercolour Prints are:-
* Limited edition of 1/10. Numbered and signed in pencil by artist.
* Artist emboss/chop stamped on border.
* Pigment ink on archival, acid free German etching paper.
* A3+ paper size.